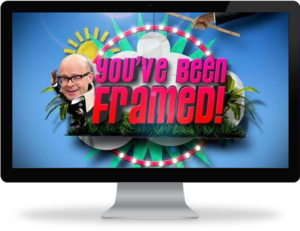 Harry Hill returns with more Home Video's for this 27th Series of You've Been Framed which began to air on the 27th September 2014
.
This Series also introduced brand new Opening Titles.
Episode 1 (27th September 2014)
Today, there's trouble in church with the language-barrier bride, a grandmother takes on a fire engine, and a dog steals a smartphone to film his own video. Plus, what one viewer found inside their egg at breakfast.
Episode 2 (4th October 2014)
Andy Murray's mum toughens up her son by using him for target practice, what the Mastermind chair does on its day off and Peter Stringfellow's jumbo Viagra tablet gives someone a black eye. The show also features a helicopter for hamsters and a goat who thinks he is a butler, while Harry is reunited with the daughter he never knew.
Episode 3 (11th October 2014)
Claire Balding marries a horse and Steven Spielberg finds an explosive cure for his constipation, while there is also a trampoline electrocution and a drone camera giving a bride a black-eye on her wedding day.
Episode 4 (18th October 2014)
Mick Jagger's son attempts to backflip off his dad's lower lip, Caroline Flack goes up in flames at a fracking party and a pair of George Michael's underpants cause a car accident, while at the zoo - a little girl falls into a stingray tank.
Episode 5 (25th October 2014)
Home-made bombs backfire, an emu steals an iPhone and there are tips on how not to circumcise a tree. Also, what will happen when Harry encourages Holly and Phillip to mate.
Episode 6 (1st November 2014)
a feline performance of Wuthering Heights and the International Toddler Throwing Championship. Plus, a man who speaks sea-lion and a crow that hates cashmere.
Episode 7 (8th November 2014)
Tonight's show features some unbelievable pregnancy reactions, a dog ruining a living room and Nan doing a cheeky striptease. There is also a look at some teenagers with a death wish and the schoolkids who replaced their nativity play with a stage version of The Exorcist!
Episode 8 (22nd November 2014)
A toy bear is interrogated for information, a little girl's prayers turn into a terrifying threat, Disney princesses conduct body searches and One Direction vandalise a family home. Plus, the Great Susan Boyle Eyebrow Race and tips for keeping a marriage fresh.
Episode 9 (29th November 2014)
A squirrel stealing a smartphone, a fox attacking a golfer and a beach wedding ruined by an unexpected distraction. Plus, a skunk stinking out a swimming pool and the Smurf who falls victim to a toddler.
Episode 10 (6th December 2014)
Today's show features elaborate pranks, a cat terrorising a postman and an accident at the top of the Eiffel Tower. Also, Harry reveals what Judge Rinder gets up to when he is not in court!
Episode 11 (13th December 2014)
This episode features a girl who keeps raisins in her ears, seals with attitude problems and destroying a shed using only your head. Also, Coldplay's Chris Martin gets even with Gwyneth Paltrow by demolishing their house!
Episode 12 (25th December 2014)
Christmas Special

Tonights show features clips of a photo-bombing reindeer, an explosive chimney and a squirrel wrecking his neighbour's Christmas lights. Plus, there's an embarrassing moment when a robotic Santa exposes himself.
Episode 13 (4th April 2015)
In today's show, an SUV gives birth to a pensioner, a penguin poops during a parade and why you should not buy your cat an iPad. Also, a dirty dolphin ruins Harry's childhood memories.
Episode 14 (11th April 2015)
Top 100 Sport Stars

Harry Hill celebrates the most unlikely sporting heroes to have appeared on the show, looking at all the slip-ups, mishaps and painful-looking accidents they have endured. Who will win the dubious honour of being crowned number one?
Episode 15 (18th April 2015)
A-Z Of Growing Up

Harry Hill presents classic videos featuring youngsters across the world as he unveils his guidebook to growing up, from toddlers to teens. What crucial life lessons will the funnyman teach along the way?
Episode 16 (25th April 2015)
Yearbook

Harry Hill opens his diary to look at a typical year in the life of a You've Been Framed! star, taking in all the major events in the calendar, from Pancake Day disasters to horrific Halloweens and chaotic Christmases.
Episode 17 (23rd May 2015)
Unleashed!                                  *Postponed from the 2nd of May 2015 
                                             due to coverage of the Royal birth.

Harry Hill foams at the mouth as he unleashes some of the wildest accidents caught on camera by viewers. In this extended edition of the nation's favourite home video programme, there is only one question that really matters - who will be the star of the show tonight?
Episode 18 (9th May 2015)
Reloaded

Harry Hill fires out more of the nation's favourite funniest videos in this extended edition of the world's first reality TV show. Still going strong after 25 years, but who will be the star of the show tonight?
Episode 19 (16th May 2015)
Hall Of Framed

Celebrating 25 years of accidents, Harry Hill revisits some of the nation's favourite funniest videos in this special edition of the world's first reality TV show. Once more Harry stands by to turn your video slapstick in celebrity satire - but who will earn a place in our hall of fame?